Mason Carter was born on January 6, 1834 in Augusta, Richmond County, Georgia.
He died on December 11, 1909 in San Diego, California and is buried at the Fort Rosecrans National Cemetery in San Diego.

The President of the United States of America, in the name of Congress, takes pleasure in presenting the Medal of Honor to First Lieutenant Mason Carter, United States Army, for extraordinary heroism on 30 September 1877, while serving with 5th U.S. Infantry, in action at Bear Paw Mountain, Montana. First Lieutenant Carter led a charge under a galling fire, in which he inflicted great loss upon the enemy.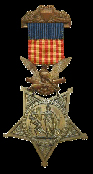 Mason Carter entered the service at Augusta, Georgia. He was a First Lieutenant in the 5th U. S. Calvary when recognized for his outstanding service, but he did not receive Medal of Honor until seventeen years later on November 27, 1894.
​

Medal of Honor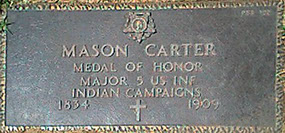 Copyright 2013 Hilliard A Wilbanks Foundation