Hammett Lee Bowen, Jr. was born in LaGrange, Georgia on November 30, 1947. His family relocated to Ocala, Florida where he spent his teenage years prior to his enlistment.
S/Sgt. Bowen distinguished himself while serving as a platoon sergeant during combat operations in Binh Duong Province, Republic of Vietnam. S/Sgt. Bowen's platoon was advancing on a reconnaissance mission into enemy controlled terrain when it came under the withering crossfire of small arms and grenades from an enemy ambush force. S/Sgt. Bowen placed heavy suppressive fire on the enemy positions and ordered his men to fall back. As the platoon was moving back, an enemy grenade was thrown amid S/Sgt. Bowen
and 3 of his men. Sensing the danger to his comrades, S/Sgt. Bowen shouted a warning to his men and hurled himself on the grenade, absorbing the explosion with his body while saving the lives of his fellow soldiers. S/Sgt. Bowen's extraordinary courage and concern for his men at the cost of his life served as an inspiration to his comrades and are in the highest traditions of the military service and the U. S. Army.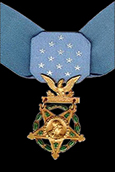 Hammett Bowen enlisted in the Army in Jacksonville, Florida in 1965, and received his basic training at Fort Campbell, Kentucky. He died in the Binh Duong Province, Vietnam on June 27, 1969.
​

Medal of Honor
​

Purple Heart
​

Army Good Conduct Medal
​

National Defense Service Medal
​

Vietnam Service Medal
​

Republic of Vietnam Campaign Medal
​

Army Presidential Unit Citation
​

Vietnam Gallantry Cross Unit Citation
He is buried at Restlawn Memory Gardens in LaGrange, Georgia.
The Hammett Bowen, Jr. Elementary School in Ocala, Florida opened in 2006.
The Bowen Child Development Center at Schofield Barracks, Hawaii is dedicated to Hammett Bowen, Jr.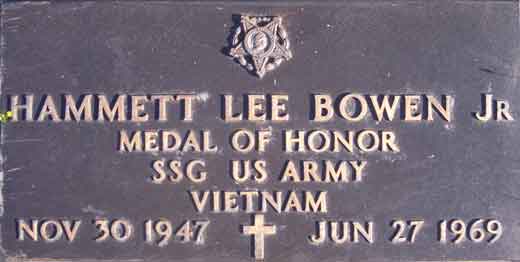 Copyright 2013 Hilliard A Wilbanks Foundation