Aquilla James Dyess was born on January 11, 1909 in Andersonville, Georgia. While growing up he attained the rank of Eagle Scout, highest in the Boy Scouts. He is one of only nine known Eagle Scouts who also received the Medal of Honor. He is also the only American to receive both the Carnegie Medal for civilian heroism and the Medal of Honor. In 1929, he was awarded the Carnegie Medal for saving two swimmers off the coast of Charleston, South Carolina in 1928.
In 1932 Dyess graduated from Clemson College, Clemson, South Carolina with a Bachelor of Science degree in architecture. At Clemson, he served as a cadet major in the Reserve Officers' Training Corps, and was appointed a second lieutenant in the Army Infantry Reserve in 1931.
In civilian life, he was a general contractor. He also served as assistant director of a summer camp for boys.
For conspicuous gallantry and intrepidity at the risk of his life above and beyond the call of duty as Commanding Officer of the 1st Battalion, 24th Marines (Rein), 4th Marine Division, in action against enemy Japanese forces during the assault on Namur Island, Kwajalein Atoll, Marshall Islands, 1 and 2 February 1944. Undaunted by severe fire from automatic Japanese weapons, Lt. Col. Dyess launched a powerful final attack on the second day of the assault, unhesitatingly posting himself between the opposing lines to point out objectives and avenues of approach and personally leading the advancing troops. Alert, and determined to quicken the pace of the offensive against increased enemy fire, he was constantly at the head of advance units, inspiring his men to push forward until the Japanese had been driven back to a small center of resistance and victory assured. While standing on the parapet of an antitank trench directing a group of infantry in a flanking attack against the last enemy position, Lt. Col. Dyess was killed by a burst of enemy machine gun fire. His daring and forceful leadership and his valiant fighting spirit in the face of terrific opposition were in keeping with the highest traditions of the U. S. Naval Service. He gallantly gave his life for his country.
He entered the Marine Corps in Augusta, Georgia as a First Lieutenant and rose to the rank of Lieutenant Colonel during World War II.
Lieutenant Colonel Dyess was killed on February 2, 1944 by a burst of enemy machine gun fire while standing on the parapet of an anti-tank trench directing a group of infantry in a flanking attack against the last Japanese position in the northern part of Namur Island. In this final assault, Lieutenant Colonel Dyess positioned himself between the opposing lines and, even though exposed to fire from heavy automatic weapons, led his troops in the advance. Wherever the attack was slowed by heavier enemy fire, he quickly appeared and placed himself at the head of his men and inspired them to push forward.
​

Medal of Honor
​

Bronze Star
​

Purple Heart
​
Legion of Merit with 1 Oak Leaf Cluster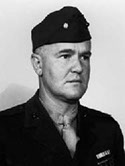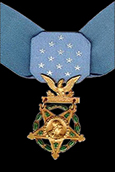 He is buried at Westover Memorial Park Cemetery in Augusta, Georgia
The Roi Airfield was named Dyess Field in his honor in 1944.
The Destroyer USS Dyess (DD-880) was named in his honor in 1945
In October 30, 1998, the Naval and Marine Corps Reserve Center in Augusta, Georgia was dedicated to Lt Col. A. James Dyess, USMCR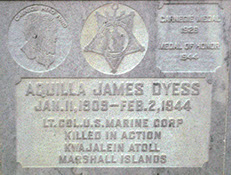 Copyright 2013 Hilliard A Wilbanks Foundation